At the end of this month, Exodus International will be hosting a massive conference to promote their anti-gay/ex-gay agenda. By focusing on the "brokenness" of GLBT individuals, they will tell participants "this is about you becoming transformed into his image so that you [...] can contribute to the body of Christ."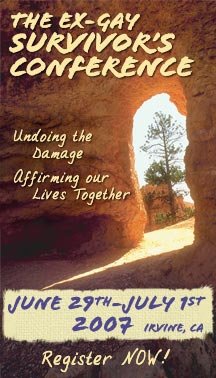 Occurring at the same time will be a smaller, less high-profile, but equally powerful conference. Soulforce and Beyond Ex-Gay have teamed up to host the Ex-Gay Survivors conference.

Gay, lesbian, bisexual, and transgender individuals already ARE apart of the body of Christ, they are already contributing to the body, and God is using them in amazing ways! This is a message proclaimed not only by other GLBT individuals, but from Christian theologians, pastors, and professors in every Christian denomination!

There is no condemnation in being gay. God has amazing things in store for his GLBT children. Pain, humiliation, rejection, and condemnation are not among them.

The conference is run by fellow ex-gay survivors, straight pastors (such as civil rights leader Rev Phil Lawson), counselors, and former Exodus/ex-gay leaders.

If you are struggling with a decision on whether or not to enter into an ex-gay program or "repairative therapy," if you are already involved in such a program, or if you have been in the past, you need to check this out first.

God loves you and affirms you, just as you are.